Jason & I are not one of those "twinny" couples who seem to belong together at first glance--in fact I think our relationship sometimes mystifies people who don't know us very well. Although I think we're pretty well matched in the important areas, it's true that we're opposite in many ways. I love to run long distances, he would be happy never standing up from his chair. He could talk politics all day long, but just the thought of that makes me want to jam earphones in my ears. He's a people person, I'm working on the title of World's Youngest Curmudgeon.

Yes, Paula Abdul, you were right all along. Opposites do attract.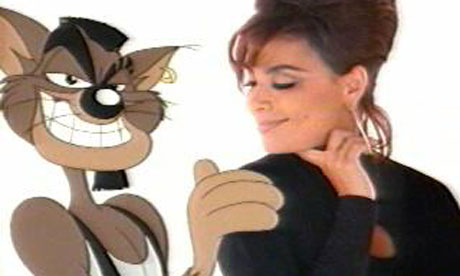 We also have differing tastes in food and desserts. I'm a pure chocolate girl, but Jason's heart belongs to caramel. Chewy, buttery, rich, slips through your teeth caramel. So when I saw this recipe for Salted Caramel Bars, I knew I had to make them for him.



These bars don't have many components, but they make every ingredient count. The base is an ultra-buttery, crisp shortbread. The thick caramel layer is chewy without being sticky, and sweet without being cloying, thanks to the generous spoonful of salt in the recipe.

The best part, though, are the large sea salt flakes that are scattered on the bars just before serving, to add a crunch and a savory bite that perfectly contrasts with the caramel.



These bars really satisfied both of us. Jason loved the caramel component, I liked how easy they were to make, and we both enjoyed the crunchy salt on top. Not to mention the fact that when his mouth is full of caramel, it's harder to hold a sustained conversation about politics.

Just sayin'.






Being the chocolate advocate in the household, I actually tried to top these with chocolate ganache, but the combination of cream-filled ganache and buttery caramel meant that the layers didn't coalesce and the ganache had a tendency to slide off. I still think chocolate can be incorporated somehow--perhaps pure chocolate, drizzled on top? Dunking the bars shortbread-side first into tempered chocolate? Further experimentation is needed.

Salted Caramel Bars

Crust:
10 tbsp unsalted butter, melted
1/2 cup sugar
1/2 tsp salt
1 egg yolk, whisked
1 2/3 cups AP flour

Caramel Layer:
1 cup unsalted butter
1 cup light brown sugar
12 tbsp light corn syrup
1 tsp sea salt
4 tbsp sugar
4 tbsp heavy cream
1 1/2 tsp pure vanilla extract

Sea salt flakes

Pre-heat oven to 350 degrees and line a 9-by-9-inch pan with parchment paper with the edges of the parchment hanging over the sides. This will make removing the bars easier.

In a large bowl combine the melted butter, sugar and salt with a fork. Add the yolk and combine with the fork. Add the flour and using your hands, combine the dough until its flaky. Transfer the dough into the parchment lined pan and press down with your hands or the bottom of a measuring cup. Refrigerate this for 30 minutes. Once chilled, bake for 27 minutes until lightly browned.

Once baked, remove and set aside to cool.

Meanwhile, in a pot combine the topping ingredients; butter, brown sugar, corn syrup, salt, sugar and cream. Bring to a boil and make sure all the sugar is dissolved. Insert a candy thermometer and cook, stirring occasionally, until it reads 250 degrees F. Remove from heat, stir in vanilla extract and pour on top of the shortbread.

Refrigerate for 2-4 hours. Then sprinkle with the sea salt flakes and serve! If you have leftovers, keep them refrigerated because the caramel will soften and gradually lose its shape at room temperature.